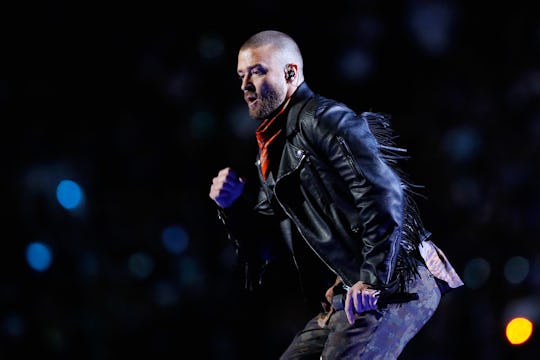 Kevin C. Cox/Getty Images Sport/Getty Images
Tweets About Justin Timberlake's Super Bowl Halftime Performance Prove Twitter Is Super Torn
Before Justin Timberlake's halftime show was even halfway through, the internet had already exploded with thoughts on it. Not to mention, there was plenty of controversy surrounding the performance ever since it was announced, for a number of reasons. Basically, Twitter remains straight-up torn over Timberlake's performance, and whether or not it was good.
In the weeks leading up to the Super Bowl, people had a lot to say about Timberlake's then-upcoming halftime show. First off, many fans hoped that the solo artist would use the opportunity to reunite with the other members of *NSYNC. Sadly, Timberlake opted for a slew of other background dancers and singers. Additionally, many were disappointed that Janet Jackson would not be performing alongside Timberlake, considering he was onstage during the infamous "nipplegate" incident during the 2004 Super Bowl's halftime show. Not to mention, rumors swirled during the days leading up to the Super Bowl that Timberlake's show would feature a hologram of Prince. The rumors were quickly cleared up, with multiple outlets reporting that the Prince hologram was nothing more than a rumor. However, Timberlake evidently decided to split the difference, and a huge projection of Prince was displayed over the stage.
Basically, people had a lot of expectations for Timberlake's halftime show, so it's no surprise that the Twitter reactions have been so mixed.
Some people were totally feeling the halftime show.
However, people found plenty of things to criticize. Some were focused on the notable absence of Janet Jackson.
Others were understandably surprised (both pleasantly and unpleasantly) to see the Prince projection, since it was reported that the Prince hologram would not be happening.
Prince is from Minnesota — which is where Super Bowl 52 is. So, it's understandable that the show would honor Prince. However, this may not have been the best route, considering comments Prince made in a 1998 interview with Guitar World, as per SB Nation.
"Certainly not. That's the most demonic thing imaginable," Prince said, when asked if he would ever consider jamming with an artist from the past thanks to digital editing. "Everything is as it is, and it should be. If I was meant to jam with Duke Ellington, we would have lived in the same age. That whole virtual reality thing... it really is demonic. And I am not a demon."
Of course, many just kept waiting for the rest of *NSYNC to come out (via puppet strings, preferably).
And plenty of people had thoughts on JT's outfit.
His ensemble consisted of a button-down with a unique animal print, camo pants, and an orange bandana — and it was designed for him by Stella McCartney, according to People.
In case you missed the performance (or are already in need of a recap), here's the rundown. Timberlake opened the show with "Filthy" from his new album Man of the Woods, which most people watching had likely never heard yet. He followed it up with better-known hits including "Rock Your Body," "Señorita," "SexyBack," "My Love," "Cry Me A River," and "Mirrors." (There were a lot of mirrors. That part was pretty cool.) Then, he slowed things down and was suddenly sitting at a huge white grand piano. He sang his ballad "Until the End of Time," followed by Prince's "Die 4 U," alongside the projection of Prince. The cameras also showed Minneapolis lighting up in purple in honor of the late singer. Timberlake concluded the show with "Can't Stop The Feeling" from Trolls, a moment that was quickly overshadowed by the tween who snagged a selfie with the pop star.
Twitter clearly can't come to a conclusion about JT's performance, but at least Jessica Biel is proud of him.
Check out Romper's new video series, Bearing The Motherload, where disagreeing parents from different sides of an issue sit down with a mediator and talk about how to support (and not judge) each other's parenting perspectives. New episodes air Mondays on Facebook.