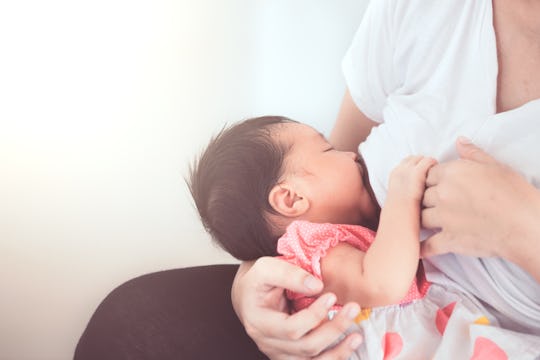 A3pfamily/Fotolia
13 Things Your Baby Wants You To Know About Exclusive Breastfeeding
For plenty of moms, exclusively breastfeeding is a coveted and important parenting goal, to the point that it can be romanticized to a ridiculous and often damaging degree. While it's recommended for the first six months of a baby's life, and there are a lot of purported and proven benefits, the pressure to exclusively breastfeeding can be dangerous. Personally, I think there are things your baby wants you to know about exclusive breastfeeding, too, because it's not the final word on your baby's health and happiness.
I wasn't able to make exclusive breastfeeding work with my first child. I tried for a while, I was successful for a time, but ultimately everyone was best served via combo-feeding. But the second time around I had a lot of things working for me that made exclusively breastfeeding work. For example, I had a vaginal delivery as opposed to a C-section (so my milk came in faster), I had almost a year and a half of breastfeeding experience under my belt, and I had transitioned to being a stay-at-home mom, so I didn't have to throw pumping into the mix. (In other words, a lot of what enabled me to make it work the second time around boiled down to luck and privilege.)
If I'm being honest, personally, I preferred exclusively breastfeeding to combo-feeding, mainly because it was less expensive and I didn't have to regularly wash bottles and pump parts. But you know what? While I found it personally enjoyable, I don't find there to be any qualitative difference between my kids. Like, if you examined all their health stats and markers of intelligence or emotional development, I highly doubt you'd be able to tell me which one was exclusively breastfeeding and which one was combo fed.
But, hey, don't take it from me. Just listen to what your baby (read: me writing in the voice of your imaginary baby) has to say about exclusive breastfeeding: