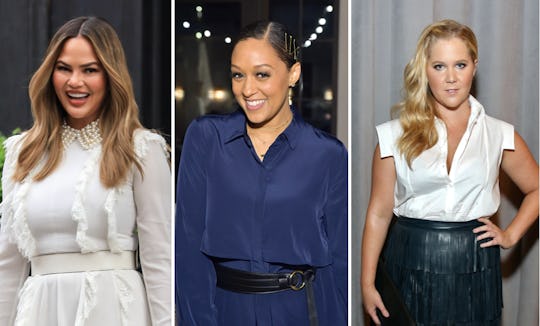 Say Cheese!/GC Images/Getty Images/ Stefanie Keenan/Getty Images Entertainment/Getty Images/ Neilson Barnard/Getty Images Entertainment/Getty Images
10 Celeb Moms Who've Been Open & Candid About Endometriosis
And are using their platforms to help raise awareness.
More than 6 million women in the United States live with endometriosis, a common yet painful disorder that causes tissue to grow outside the uterus. Symptoms like heavy menstrual flow and pelvic pains aren't always immediately recognized and many women go years without the support and treatment they need, which is why it's more and more celebrity moms have opened up about their endometriosis to help bring more awareness.
Across the world, National Endometriosis Awareness Month has been recognized in March since 1993. "This illness is challenging for so many reasons, but feeling isolated can be particularly overwhelming. Often we are the only person in our circle with endo, and we find ourselves having to advocate in every setting, including the doctor's office," the Endometriosis Foundation of America explains. "Endometriosis Awareness Month is the chance to grow our support networks, share information, and be open about the battle we fight every day."
From Tia Mowry-Hardict to Amy Schumer, celebrity moms are helping do just that. They're sharing their personal experiences that shed light on bigger problems like how Black women and women of color are more likely to be misdiagnosed. According to a study published in 2019 by the American Journal of Obstetrics and Gynecology, 40% of African American women were mistakenly diagnosed with pelvic inflammatory disease (PIV), even though they had endometriosis.
There is no cure for endometriosis and treatment depends on each woman's needs. And over the years, celebs have shared their experiences with the disorder and are using their platforms to help raise awareness.
If you or someone you know is suffering from endometriosis or believes they have symptoms from it, remember you are not alone.