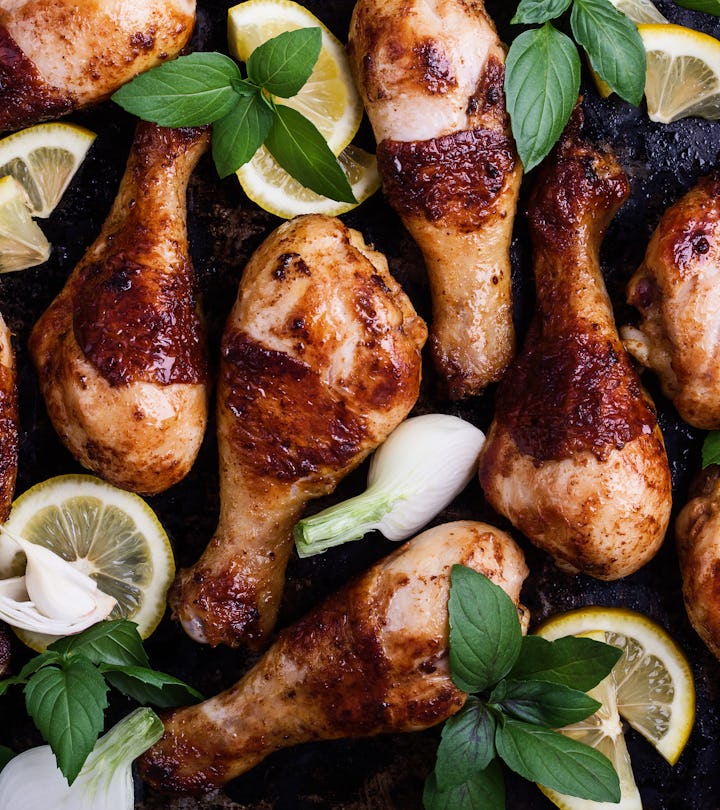 istetiana/Moment/Getty Images
25 Chicken Sheet Pan Recipes The Whole Family Will Love
For those nights when you just want everyone to agree on something, for once.
If you consider yourself a semi-regular cook, you know that on especially long days characterized by screaming and tantrums and flooded inboxes, the sweet call of take-out can seem all too alluring. But when you find yourself stuck in a chow mein coma and your drawers become inexplicably crammed with ketchup packets and rogue fortune cookies, it might be a sign to start looking for new solutions. Enter these easy sheet pan chicken recipes.
Chicken has a reputation for starring in such meals as: "I'm just really trying to impress my in-laws," "Yes, I've been watching Food Network all day," and my personal favorite, "I actually had more than 30 minutes of free time today." But in this new role, chicken for dinner proves that it doesn't actually have to be a part of a full length production. In fact, it can be easy! We're talking throw-it-on-a-baking-sheet-and-call-it-a-day easy.
After all, when it comes down to it, these recipes are really just healthier, more delicious departures from the drive-through chicken nuggets you would otherwise be eating... so why not go for it? They're quick, they're simple, and they're delicious, plus they're perfect for leftovers and meal prep (if you have the self control). So the next time you're craving a hot meal but are unwilling to commit to stacks of dishes, 12 different trips to the grocery store, and a whole playlist of YouTube tutorials, resist the urge to chicken out and give these sheet pan chicken dinner recipes a try instead.
This article was originally published on