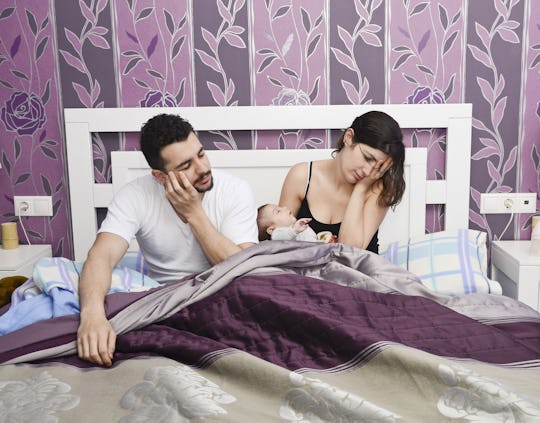 TonyRecena/Fotolia
10 Infuriating Things Your Partner Will Accidentally Say When You're A Brand New Mom
I had no idea what to expect after I gave birth. I didn't know I would be so tired, sore, depressed, and unmotivated when I cam home from the hospital. I also didn't know how to tell my partner how I felt. Not adequately, anyway. So, it's not all that surprising that he simply didn't get it and, as a result, inserted his foot into his mouth on numerous occasions. Sadly, there are so many infuriating things your partner will accidentally say when you're postpartum, because they really can't understand you're feeling way too vulnerable to explain it.
If I'm being fair, I have to say it's not entirely my partner's fault. I mean, I was hormonal, exhausted, in pain, and burning 500 calories a day making milk to feed the baby at all hours of the night. There was no way of knowing how I might respond to even the most benign comment or perceived slight. But, seriously, while some of them were honest mistakes, other comments were things that no partner should ever say, let alone to someone who is recovering from childbirth.
Words matter. The right words can make you feel great, supported, and loved. The wrong words, even those said accidentally or in passing, can make you feel like crap, which is the last thing you need when you are recovering from growing and birthing humans. Unfortunately, for new moms, sometimes even the best partners will say the most infuriating things. Read on for some ideas of what not to say to a postpartum mom, even if it's totally an accident.