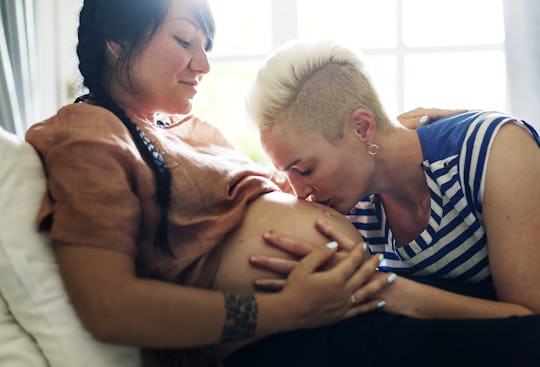 Rawpixel.com/Fotolia
10 Things A Pregnant Woman Shouldn't Have To Explain To Her Partner
Anyone who's been pregnant can tell you that the experience changes you. Your body, your brain, your emotions, and your priorities all endure drastic adjustments. It can be amazing, horrible, exciting, scary, intense, delightful, sad, painful, and hilarious. And sometimes all at the same damn time. How you feel about yourself also changes, and that modification isn't always positive. If you have a partner, there are things they can't possibly understand, and honestly, there are some things a pregnant woman shouldn't have to explain to her partner. For real.
Pregnant people literally grow human beings inside their bodies, but that doesn't stop our culture from criticizing their bodies and policing their behavior. Sometimes, whether they recognize it or not, our partners do the same, too. Whether it's via condescending passive aggressive comments, to obvious and unkind critiques, to how they respond to our ever-changing needs, even our favorite people can fail to support us pregnant people the way we need to be supported. When our non-pregnant partners question whether or not we should be eating or doing something or express unhappiness with our changing bodies, libido, mood, abilities, or routine, they send a clear message: that we are not good enough. Yeah, that's not OK.
When my now ex-husband demanded to know why I didn't want to have sex with him — because "isn't pregnancy supposed to make you horny?" — it made me feel both abnormal and coerced. I am sure that he was frustrated, but I was vomiting multiple times a day and did not feel like having sex. End of story. My current husband is not free from fault, either. He has gently questioned if it was OK for me to work out, and even asked my doctor when I could hit the gym at a pre-natal appointment. If looks could kill, he may not have survived.
There are so many things you can learn about your relationship during pregnancy. Together, you and your partner overcome serious stress, a few gross moments, and a plethora of petty arguments. If your partner is able to get past the changes in you, your relationship, and your needs during pregnancy, you might just grow closer together. If they can't, well, the least they can do is stop asking you to explain the following things every pregnant women experiences: