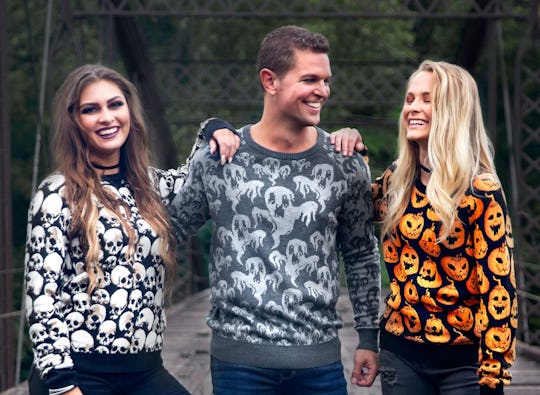 HalloweenCostumes.com
Who Needs A Costume When These 10 Ugly Halloween Sweaters Exist?
I'm not going to lie — I love a solid made-at-home Halloween costume. Perhaps, it's a call back to my youth, when my parents subbed creativity for splurging on something fancy or maybe it's just because I have fun getting innovative with my little one's costumes. But that's not to say that when I heard about the new ugly Halloween sweaters of 2019, I wasn't like, "Wait — this is a thing?" And, of course, my next thought: How do I get my hands on one?
This Halloween ugly sweater collection includes looks from your favorite 1980s slasher films — I'm talking Nightmare On Elm Street and Friday the 13th — plus your more classic black cat and jack-o'-lantern options. You could pretty much wear a sweater for every day of the month in October.
And while you're on Halloween Costumes' site, you might also want to check out their wide variety of costumes for both adults and kids. There are even costumes for your pets, including a Wonder Woman getup ($17) and Marty McFly "Back to the Future" costume ($35) that are basically life.
Of course, if Halloween sweaters are the name of your trick-or-treating game, then these options won't disappoint. In fact, the hardest part will be choosing your favorite.