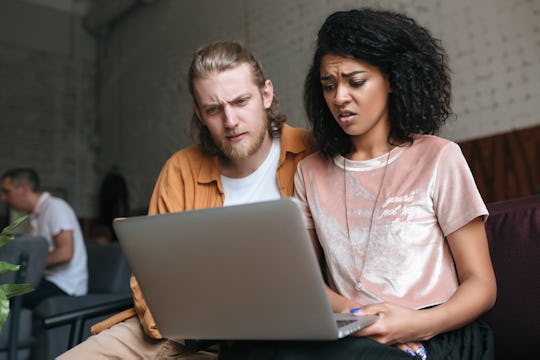 Anton/Fotolia
11 Creepy Things People Have Said To My Husband... Right In Front Of Me
I was watching The Handmaid's Tale the other night and was struck by how seamless the transition from modern American society to an all-out dystopia was. And one of the first signs society was in decline was the way people talked to women, or worse, about women to men. It actually made me shudder a little, because you would not believe the creepy things people said to my husband, like, right in front of me. It's almost as if a portion of the population is stuck in the past — believing that I answer to my husband — or worse, that our culture is looking more and more like the one in The Handmaid's Tale every single day.
There are moments when I call people on their crap, but plenty of moments when I don't, too. Honestly, I'm too tired and busy to be the one teaching common courtesy lessons to grown-ass adults. Instead, we should be considering how we, as a culture, arrived at a place where people think it's OK to address your male partner when they should be talking to you. I mean, in what world is it appropriate to talk to my husband about my labor and delivery experience, my outfit, or how I choose to feed my baby? Sadly, the answer to that question is this world.
As Margaret Atwood wrote in the The Handmaid's Tale, "Nothing changes instantaneously: in a gradually heating bathtub you'd be boiled to death before you knew it." While the following comments might seem innocent, I think it's time that we get out of the tub, or at least say something in response.