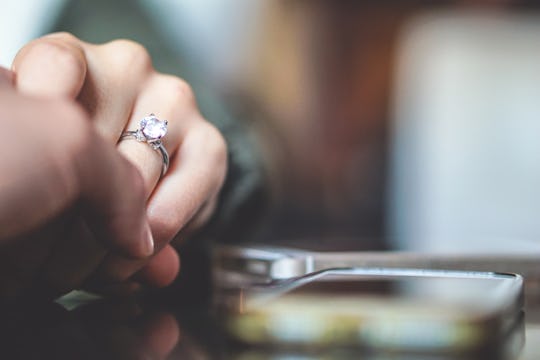 AlessandroBiascioli/Shutterstock
17 Women Get Real & Admit Why They Married The Guy They Settled For
I didn't marry for love the first time around. Honestly, I just thought he was the best I could do. He preyed on my lack of self-esteem and turned out to be immature, abusive, narcissistic, unfaithful, and dishonest. I wish I could invent a time machine and warn myself that I was "settling." I found that out the hard way, though, and long after our wedding day. In my conversations with other women — both married and divorced — I've learned that lots of other women married a guy they settled for, too, and for many different reasons.
You see, so many things can cloud your judgment when you're staring marriage in the face. Low self-esteem, emotional abuse, and the dumpster fire that the dating game can sometimes cause your inner voice to say, "Well, I guess he's OK," or worse, "No one else will love me." It can be pretty hard to see these things from the inside of a bad relationship. Other women settle for stability, because they want to have kids (and believe that you have to get married to do so) or need the health insurance (which is just another reason we have got to fix the health care system in our country).
There is also a lot of misogynistic pressure on women to get married and have babies in our culture, which leads to a lot of us settling for less. We truly think we won't find someone better, or that we've reached a certain age that will make it impossible for someone of substance to love us. It really sucks. Fortunately, some of us were able to see the light or even dodge the marriage bullet entirely.
Read on for some proof that hindsight is 20/20 and settling for less doesn't always work out the way you planned: