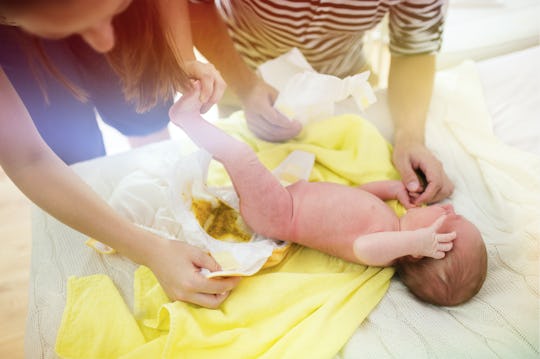 Halfpoint/Fotolia
18 Mortifying Baby Poop Stories From Moms Who Feel Your Pain
There are few universal truths in mom life: it's never what you thought it would be like, no one sleeps, and it's gross. Most of us expect motherhood to be full of amazing, magical moments, and don't get me wrong, it is. But it's also full of vomit, drool, spit-up, blood, snot, urine, and, well, poop. There's so much poop, you guys. Ask any mom, and they will likely be able to recall, without hesitation, their most horrifying poop story. Every single one, and if they claim they can't, they are full of sh*t (pun intended).
Of course, it's not entirely the babies' fault. I mean, most of us have pregnancy poop horror stories, too. Mine involves vomit and poop. It seems supremely unfair that I had hyperemesis gravidarum — extreme nausea and vomiting — during my last two pregnancies, and the medicine I needed to function made me so constipated that I didn't poop for days. No amount of stool softeners or laxatives would help. I even started worrying I would have to got to the ER for help. Believe me, you don't really understand shame until you have to ask your husband to bring you a spoon in the bathroom to help things along. Then, there was postpartum pooping. No one really tells you how horrible it is. But before you know it, you're begging the postpartum nurse for a suppository and searching for the nearest restroom so you sh*t your pants.
But this isn't about us moms, dear reader. We get enough crap (literally and figuratively) as it is. Oh no, this is about our babies. Our disgusting, poop-filled babies. Honestly, by the time I had to deal with diaper blow outs and my baby pooping in the bathtub, you would think that I would have been less squeamish, but then the baby used poop for finger paint, had diarrhea down my chest, and I caught her eating her own feces. And these things all happened before potty training and stomach viruses. Parenthood is not for the faint of heart, my friends, or for the weak of stomach.
If you already have kids, you know how gross parenthood can be, and if you are expecting, you might want to read on to find out what you are getting yourself into. Because it's poop. You are about to deal with poop. So much poop.