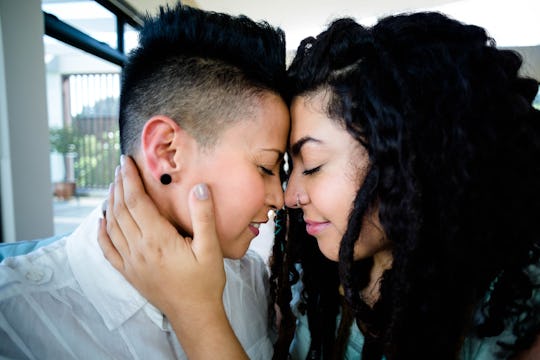 Fotolia
8 Of The Most Ridiculous Fights I've Had With My Partner Because I Was Touched Out
As annoying as it probably is to hear (let alone read) I can't say that my partner and I argue on a frequent basis. For the most part, we're both on the same metaphorical page and view things the same way and have the same beliefs, so it's relatively easy for us to come together and raise our son as a team. However, that doesn't mean we're immune to fighting. In fact, the most ridiculous fights I've had with my partner were because I was touched out, and he was trying to do something nice that involved his skin touching my skin.
Looking back, I can say with relative certainty that these "fights" weren't fair in the slightest. Just like I was attempting to adjust to and figure out this whole "mom thing," my partner was trying to figure out fatherhood while simultaneously trying to learn how to best support me, as a new mom. However, I'll say it wasn't really fair that I was the one that had to deal with all the dramatic, physical changes that facilitate parenthood, either. I mean, my body went through a brutal 40 or more weeks, and then a brutal postpartum recovery process. So, parenthood is just tough all the way around, and it takes a while for any woman to feel like she has complete ownership of her body after it's been invaded by a growing fetus, and it takes a while for any partner of that woman to learn how to best support her through that process.
Which is why the following "fights" occurred. Sure, they're hilarious now that time has done the dirty work and smoothed out all the rough edges post-pregnancy life provides, but in the moment I was pissed. Pissed, you guys. Pissed that I didn't like being touched by anyone other than my baby. Pissed that my partner wanted to touch me because, you know, he's my partner. Pissed that sometimes helping me with a task made physical touch necessary. Mostly, though, I was pissed that I didn't feel in control of my own body and couldn't get a handle on my damn hormones. Aww, motherhood. It's just the best, right?