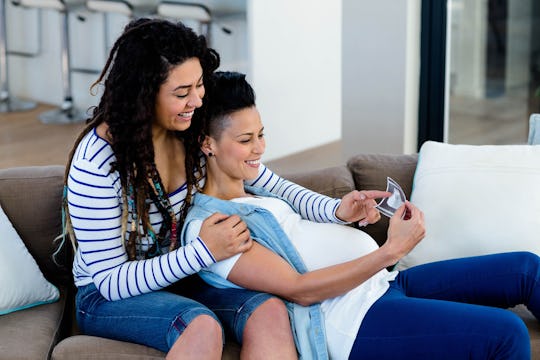 WavebreakMediaMicro/Fotolia
9 Parenting Decisions You & Your Partner Need To Make Before Your Baby Is Born
Everything changes when you have a baby. It's a cliché, to be sure, but only because it's absolutely true. There are some parenting decisions you can (and probably should) wait to make until your baby shows up and you have a chance to figure things out. After all, every single baby is different. There are other decisions, however, that you and your partner need to make before your baby is born.
In fact, you need to make some of these decisions before you even get to the hospital to give birth — like if your partner wants to cut the cord or catch the baby, how you plan to feed your baby (at least if everything goes as planned), what immediate vaccinations you want your baby to receive, who you want your baby's doctor to be, and if you want them to be circumcised after birth. It's stressful to make all of these choices in such a short amount of time, but it's necessary. Trust me when I say you don't want to make these decisions when you're exhausted and your emotions are out of control, or if something happens and you can't weigh in at all.
You also need to figure our what will happen after you take your baby home, and the fun (read: emotionally taxing, physically and mentally exhausting) hard stuff starts. For example, who will do what in terms of child care and how having a baby might change your careers? Will one or both of you take parental leave, and can you afford it? Will you both work or will one of you stay home? There's so much to decide, and most of it is not a "given."
For my partner and I, some of these conversations were no big deal. We are 100 percent pro-vaccination, I wanted to give breastfeeding a try, and we are against circumcision. For other decisions, however, we needed to work things out in terms of physical and emotional labor and work/life balance. Life with a newborn hasn't been easy, to be sure, but it's definitely easier than it likely would have been had we not made some decisions in advance.