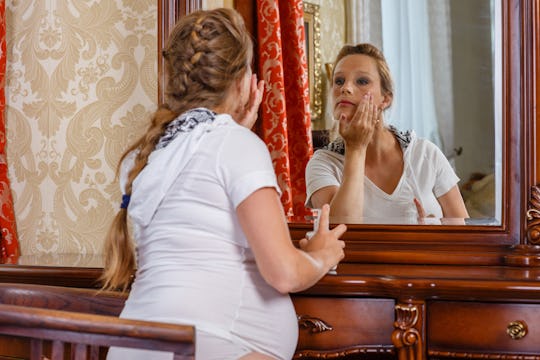 Fotolia
9 Things People Say To Moms About Their Bodies, That They Don't Say To Dads
Oh the sexist double standards we're seemingly forced to live with. Whether we're in high school and districts are imposing slut-shaming dress codes, or we're in the throes of postpartum life, discovering everything parenthood entails for the first time; how society talks about women's bodies vs men's bodies has been notoriously different and, therefore, dangerous. Things people say to moms about about their bodies are nothing like what they say to dads about theirs and I, for one, find that frustrating as hell. Sadly, it's also in keeping with the vastly different way our culture views mothers and fathers. For example, fathers who stay at home are progressive and feminist; mothers who stay at home are lazy. Fathers who work are wonderful providers; mothers who work are selfish and self-centered.
Whether it's the relentless pressure to lose the "baby weight" or the not-so-silent judgement about what a mother chooses to wear; mom's bodies are judged, shamed, and constantly evaluated by a culture that doesn't apply the same unrealistic standards to fathers. I, sadly, experienced this first hand. I was told (on numerous occasions) by a family member that I needed to lose weight directly after having a baby. I was four months postpartum and, after deciding to back for seconds during a rather delicious meal, was told I didn't "need" that extra plate of food. My partner, however, was encouraged to eat as much as he wanted because he needed to be "strong" so he could, and I quote, "provide for his family." Needless to say, I lost my appetite and it wasn't because I felt an obligation to.
It's difficult (and, you know, super sad) to think that it's 2016 and we're still dealing with these gender stereotypes and inequalities, but we are and this is real life and everything is just the worst. But, you know what they say: the first step in fixing a problem is admitting there is one so, with that in mind, here are nine things people say to moms about their bodies, that they don't say to dads. Time to start changing, society. And, like, fast.