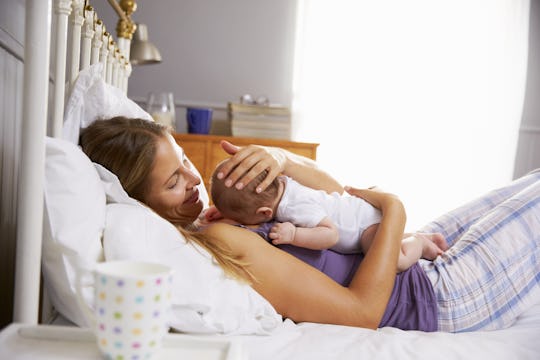 Fotolia
9 Things You Don't Have To Do When You're Co-Sleeping, Even Though Everyone Says You Do
As a new mother, I'm always up for well-intentioned suggestions, genuine words of wisdom and pieces of beneficial advice. Honestly, I'll even sit through some unsolicited guidance if it's on a subject I feel I don't know much about, or could improve on. However, along with all that information comes "tips" that, really and truly, aren't that helpful. After all, there is no one-size-fits-all way to parent. This was never more obvious than when it came to sleep, and I realized there were things I didn't have to do when co-sleeping, even though everyone said I had to. It wasn't really anyone's fault, honestly; I was asking for all the help I could get. In the end, though, what proved to help the most was that dreaded thing called experience. I had to live those situations for myself in order to find out what really and truly worked best for me and my family. Ugh.
My son and I have been co-sleeping since the day he was born, and he's now a two-year-old, wild and crazy toddler. We have transitioned him to his own toddler bed, which he loves, but like clockwork he comes meandering into our bed around two or three in the morning. I don't mind, as it gives me time to fall asleep without tiny fists of fury going every which way, but allows me to continue waking up next to my sweet little toddler (who has learned how happy he can make mom if he gives her sweet morning kisses and "get up, mommy" declarations). So, I've had two years to hear all the judgment, all the shame, all the endless suggestions and all the "me too" stories that come along with co-sleeping. Some of it was awesome and I have had the most wonderful, helpful conversations because I chose to let someone know I co-slept with my kid. Other times, well, I could have done without the commentary.
Either way, I have learned a lot in two years of sharing my bed with a mini-human, and in that time I have realized that there are certain things you really just don't have to do. Of course, everyone is different so what didn't work for me, may very well work for you. In the end, and like I previously mentioned, the only way you'll truly figure out what works for you is if you get your hands dirty and experience specific situations on your own. So, you know, happy sleeping, mama.