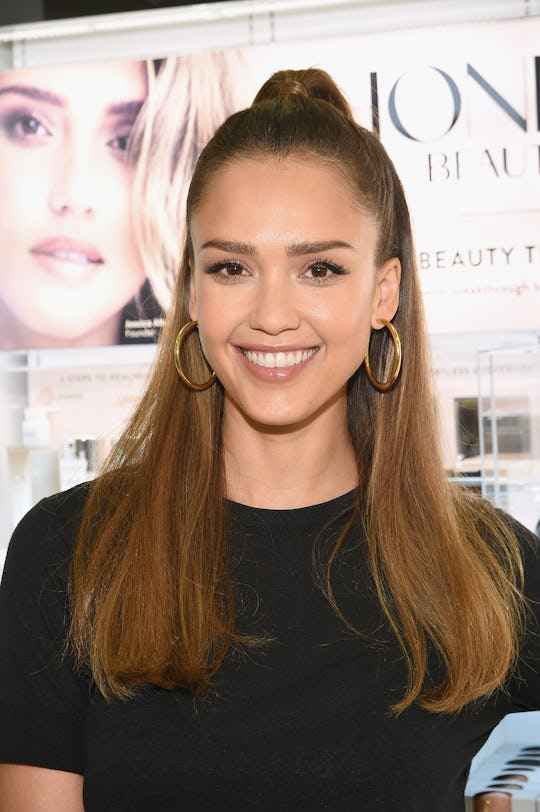 Mike Coppola/Getty Images Entertainment/Getty Images
Jessica Alba Is Multitasking Like A Pro In This Breastfeeding Selfie, & Moms Have Def Been There
Jessica Alba has proven time and time again that she's a super mom. Not only does she have three young children, but she also has an impressive career as an actress and as co-founder of The Honest Company. And in her latest Instagram Story, Alba is reminding fans of the fact that her busy life often means she has to multitask just like millions of other busy moms. On Wednesday, Jessica Alba shared a breastfeeding selfie to Instagram that features quite a bit of multitasking.
In the selfie, Alba is wearing a towel on her head — girl, congrats on finding the time to wash your hair. You deserve this. She's also seated, with her 2-month-old son, Hayes Alba Warren, resting on a nursing pillow and breastfeeding. Nice strategic placement of your baby and shirt there, Jess. And finally, Alba is brandishing a salad at the camera. A salad is definitely a two-handed meal, so if she found a way to consume it after putting the phone down, then a huge congratulations are in order. "Lunch: kale, Brussels sprouts, salmon, avocado, and a sprinkle of parmesan," Alba captioned the shot. Leave it to a mother of three to be more proud of her salad than her breastfeeding/multitasking skills.
This is not the first #brelfie (that's a breastfeeding selfie, FYI) Alba has shared since giving birth to Hayes on Dec. 31. A few weeks ago, while shopping in Target, Hayes suddenly became hungry. So Alba did what any breastfeeding mom would do — she parked it in a Target dressing room and let her son have a feast. She posted a selfie of the moment to her Instagram Story, captioning it, "Breastfeeding in a Target dressing room," and "Tired eyes."
Alba has also posted some more casual #brelfies over the past few months. Each breastfeeding photo Alba — and other nursing parents — shares helps fight the stigma against public breastfeeding.
In addition to breastfeeding, Alba has been documenting many other postpartum milestones over the past few months. Just a few hours after posting the multitasking selfie on Wednesday, Alba shared before-and-after shots of her first postpartum haircut on Instagram. "This happened 💇🏽‍♀️ thx @chadwoodhair for the awesome #haircut - it feels sooo good to shed the pregnancy hair. Whaddaya think?" she wrote alongside the two shots. For many moms, the first postpartum haircut is a rite of passage. Some moms opt for a more drastic cut, while others (Alba included) simply go for a much-needed trim. New moms are often preoccupied with caring for their baby 24/7 — so leaving your new baby in someone else's care to get a haircut can be seen as an important act of self care.
Alba also recently started working out again, and she's been documenting the process on Instagram. Returning to your exercise regimen after giving birth is another important milestone, and every woman figures out what works for their body in their own time. Alba's Instagram Story Wednesday was filled with short clips of her working out with a personal trainer. She also shared a photo to her Instagram page with a group of buddies after her third (third!!!) workout of the day.
It goes without saying that many moms do not have the luxury of a personal trainer to help them develop a postpartum exercise routine, nor do most of them have the free time to work out three times a day when there's an infant at home. That being said, it's still awesome that Alba is sharing so many aspects of her postpartum life with her Instagram followers — but it would be great if she could explain in detail exactly how one eats a salad while breastfeeding.
Check out Romper's new video series, Bearing The Motherload, where disagreeing parents from different sides of an issue sit down with a mediator and talk about how to support (and not judge) each other's parenting perspectives. New episodes air Mondays on Facebook.