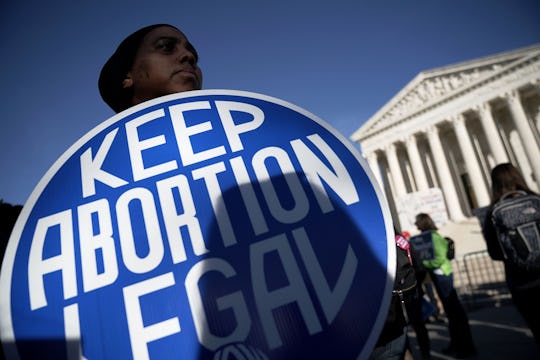 Alex Wong/Getty Images News/Getty Images
9 Moms Share What Their Life Would Be Like Without Roe V. Wade
Before the election, my biggest hypothetical fear was President Donald Trump's ability to appoint Supreme Court Justices. With Justice Kennedy announcing his retirement on Wednesday, this fear will probably be realized twice over. It wasn't that I couldn't imagine a million horrible things Trump could do; it's that the Supreme Court will outlast any one administration (ideally). Its rulings on federal laws could influence society for decades to come. Marriage equality, labor laws, and, of course, abortion rights. To highlight the significance of Roe v. Wade, I asked moms to talk about what their life would be like without it, because the full impact of Roe being overturned cannot be fathomed without hearing from the people it could affect.
I've never had an abortion, and while I've been pro-choice for as long as I can remember, my relationship with the idea of abortion has changed over time. While I initially saw the termination of a pregnancy as a sort of necessary shame (and, at times, an immoral, selfish decision), age, experience, and, especially, becoming a mother, has changed my thinking. I no longer see anything shameful or universally sad about abortion access. I certainly don't see it as selfish. I see it as component of complete pregnancy care. Sometimes it's sad, sometimes it's hard, sometimes it's easy, sometimes it's a relief, and sometimes it's somehow all of those things at once. There is no one abortion story, because they are as varied as the people who have them, and a lot of people have them. In fact, one in four women will have an abortion in her lifetime... and most of them will be mothers. According the the Guttmacher Institute, in 2014, 59 percent of abortions were obtained by patients who had had at least one birth. More still will go on to have children after an abortion. In other words, the dichotomy of mothers versus "the kind of women" who would get an abortion does not exist.
Since 1973, the often embattled Roe has protected the right to choose. Millennial Americans have largely grown up with the knowledge that, if they ever became unintentionally pregnant, or if they could not support a child, or if their life was in danger as a result of pregnancy, or if their child would only live a life of pain, they had options. But while Trump at once espoused pro-choice views, he has since promised to nominate "pro-life" justices specifically to overturn Roe v Wade.
In the event of the abolition of Roe (which is not exactly ensured at this point, but certainly more likely than it was before Wednesday), I've already begun to formulate plans to safeguard the right to choose however I can: urging states to draft laws that protect abortion rights as well as getting old laws off the books that would effectively outlaw abortion; working with networks of people willing to volunteer time, money, child care services, etc. to help those in states with restrictive abortion laws to travel somewhere else to obtain this medical service; and constantly reminding myself of just how essential this law is by talking to folks who know firsthand.