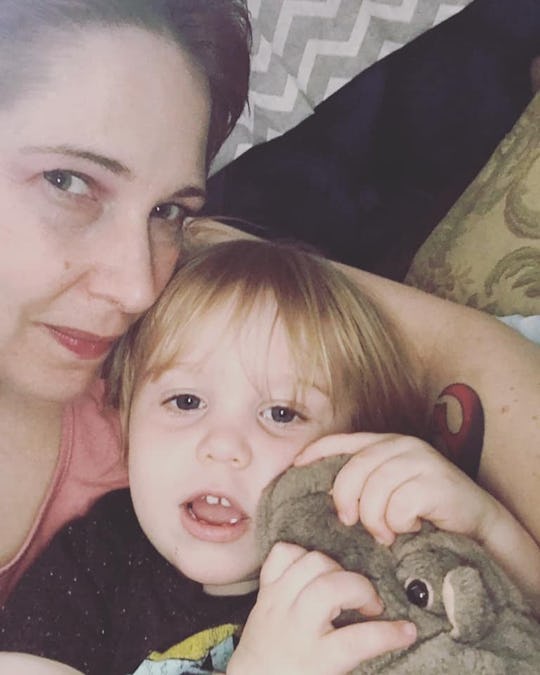 Courtesy of Steph Montgomery
18 Things My Toddler Would Rather Do Than Go To Sleep
As I lie awake next to my toddler in his "big boy" bed, my patience starts to wane. Bedtime seems endless. Hell, it is endless. And after two years of sleep training, sleep regressions, illnesses, and my formerly sweet and snuggly baby turning into a playful imp each night, I can safely say that I'm over it. Honestly, why won't my toddler sleep? Why?! Turns out, the answer is as simple as it is entirely unhelpful: there are a slew of things my kid would rather do.
Part of the problem, it seems, is that I've indulged in his dreadful sleep habits. And, as a result, my child has essentially sleep-trained me, rather than the other way around. Out of exhaustion and desperation, my partner and/or I have resorted to lying or sitting with our son until he falls asleep. And while it used to work fabulously, now we're nothing but a captive audience for his bedtime antics. Instead of hearing his snores, I hear him adorably singing, pretending to read, talking to his stuffed animals, or babbling incoherently about what could possibly be astrophysics or politics or an ode to our cate (it remains to be seen).
And then, of course, there are the nights when my precious child will do literally anything to interrupt the process of falling asleep. He will try, on purpose, to disrupt our carefully designed bedtime routine, including but certainly not limited to: getting out of bed, pinching himself, and even literally pulling out his hair to stay awake. If I try to doze off in his bed or the chair in his room (usually after he has decided to inexplicably wake up at some ungodly hour, like 4:30 a.m.), he will pile his toys on me or climb on top of me or simply yell at me, just to make sure that I can't sleep either.
It seems my toddler will do anything to avoid falling asleep, including the following: