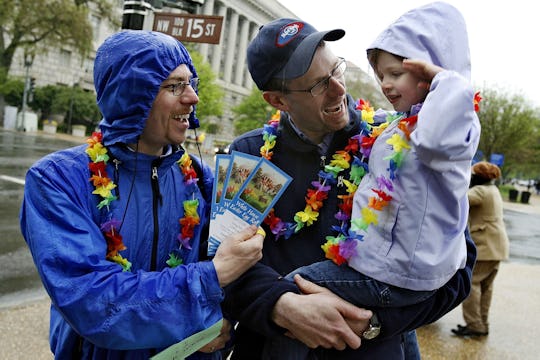 Chip Somodevilla/Getty Images News/Getty Images
10 Parents Share Their Coming Out Stories To Their Kids
For the most part, I try to avoid difficult conversations. I never came out to my parents as bisexual, for example. Instead, I silently hoped they would just "get it." You know, like through osmosis or something. Then I married a man, so everyone automatically assumed, and continues to assume, I'm straight... including my kids. But I'm not, so I made the choice to come out to my kids. And while the process was very meaningful to me, to my kids it wasn't a big deal.
When I asked some of my LGBTQ+ friends to share their own personal stories of coming out to their kids, I was reminded that, not unsurprisingly, kids are on the whole more willing to accept a person's sexuality and gender identity than adults. When I heard these stories of love and acceptance, I realized that we can learn a lot from how our kids accept things us adults consider to be "controversial," like gender being a social construct.
For our kids, heterosexual relationships and cis-gender people don't have to be the default or the norm. And when we talk to them about our own sexuality and/or gender identity, we open the door for them to talk about theirs, too, or at the very least make sure that they know we'd accept and love them no matter how they identify or who they love. That, my friends, is an important message we should all try to impart.
For some beautiful coming out stories that truly embody the fact that love is love is love, read on: