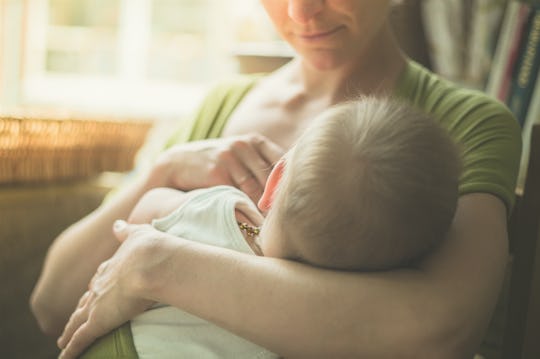 LoloStock/Fotolia
10 Things Every Woman Should Do For Moms Breastfeeding In Public
In 38 months I spent nursing my two children, I had nothing but completely neutral to pleasantly friendly experiences when I was feeding them in public. I breastfed everywhere, from big box stores to churches, playgrounds to museums. Most of the time I was completely uncovered. The challenges I faced were practical in nature and not social. Still, as I contemplated any difficulties a nursing mom might face, I came up with ideas of what I could do and things every woman should do for moms breastfeeding in public. I weaned my last child about two years ago, so it's too late for me to benefit from any of these pointers, but it seemed a shame to let them go to waste.
I had great experiences with breastfeeding in public. Mostly I was just left to my own devices, but every now and then I'd find myself in an almost comically positive interaction with someone who wanted to cheer me on. Usually this "someone" was an older mom who wanted to tell me about how she nursed "back when nobody did, and it's so nice to see breastfeeding on the rise." I didn't mind these exchanges because I'm, like, the Queen of the Extroverts.
"But wait," you might say. "Why things every woman should do for moms breastfeeding in public? What about men and non-binary/genderqueer folks? Why moms and not any chestfeeding parent?"
That's a great point and I'm glad you're thinking along those lines! Let's start with "why moms?" I am a cis, femme woman who is a mom and, as such, I dare not speak to the things a chestfeeding trans-parent, for example, would want from someone while nursing in public. (If anyone wants to tell me about that, please get in touch!) As for "every woman," since we're talking about breastfeeding moms, I don't think it's going out on a crazy limb to suggest that, maybe, this is not a space where male strangers are particularly helpful. (Though I would contend that some of the more "hands off," general advice here is appropriate for people of any gender.)
So now that we've established where I'm coming from on this, let's get to it and discuss how non-breastfeeding women can help the nursing moms they may come across in your run-of-the-mill, every day outing. Hey, we're all in this together, right?