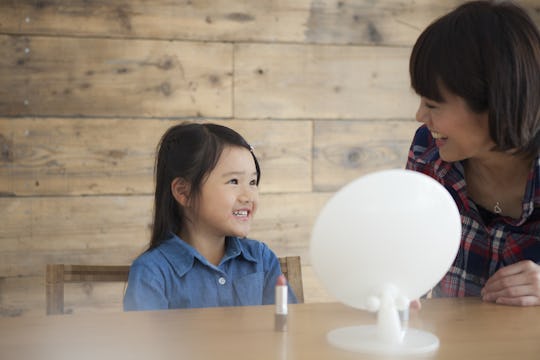 Monet/Fotolia
10 Things Feminist Moms Refuse To Say To Their Kids About Body Image
Securing a positive body image isn't the easiest when you're an adult, but it seems as though children intrinsically value and love their bodies. For example, my kid is 3 and loves his body. He's curious about it, yes, but he uses it without a second thought; running, jumping, sliding, crawling, and climbing sans a care in the world. He calls his face, feet, and even his butt "beautiful, beautiful." It's great. Which is why, as a feminist mom, there are things I refuse to say about body image to my child, or any other child, for that matter. Because the last thing I want to do is contribute to the toxic culture that beats a positive body image out of us by the time we hit middle school.
It's taken me a long time to feel comfortable in my own skin. As a child, I hated my belly, my hair, and my teeth. Sometimes I felt too thin, and other times I felt too fat. And when I started hitting puberty and my body hair started to grow, I thought every little strand and stubble was truly repulsive. My mother wouldn't allow me to shave, either, so I carried around an incredible amount of shame. I also felt too "ethnic." Even though I lived in a predominately Latinx neighborhood, there was still a "Strive To Be White" attitude, especially in terms of hair (and mind was coarse, black, frizzy, and a mix of waves and curls).
Honestly, and sadly, I couldn't even begin to cover all the ways I hated my body as a young adult, but to be frank, it was hard as hell to develop a positive body image as I navigated the changes my body was experiencing and the messages our society was sending me when it came to what was considered "attractive" and what wasn't. That's why I'm more committed than ever to instill a foundation of body positivity in my own son, and hope to be a good example to any other kids in my life, like my nieces and nephews.