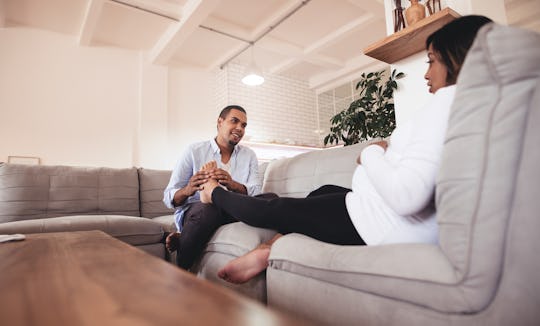 Jacob Lund/Fotolia
17 Moments During Your Pregnancy When Your Partner Should Do *Nothing* But Praise You
Being pregnant is hard. Yes it's exciting, but it's also trying and anxious and hormonal and, hey, guess who's in the front row of dealing with it? That's right: your beloved partner. The person who very likely got you into this mess in the first place. So you better believe there are moments during your pregnancy when your partner should praise you, because you deserve it (and, honestly, they very likely owe you).
I'd like, if I may, to continue to address my comments to those partners: folks, I feel you. What you have before you is no easy task. I have enough self-awareness to know that, as a pregnant woman, I was a little bit extra, but not quite enough self-awareness to care to do all that much to really curb it. I mean I wasn't a soul-devouring demon or anything, most days, but I know there were emotions and Big Important Talks I Wanted To Have that I couldn't necessarily contain and needed some support throughout.
It's not that I had a metaphorical "Fragile" sticker across my forehead for the duration of my pregnancy, but there was probably one that said "Handle With Care" or "This End Up" or "Do Not Bend" or something to let you know, "Hey, be a little bit gentle with me, world." A great way to do that was to shower me with love and adoration and empowering words of praise. But what situations require such affirmation? And what can you even say?
I've got you covered.