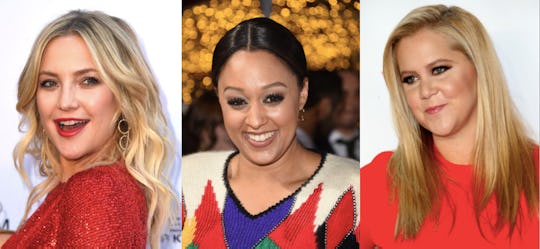 Jason Merritt/Getty Images Entertainment/Getty Images/ Frazer Harrison/Getty Images Entertainment/Getty Images/Frederick M. Brown/Getty Images Entertainment/Getty Images
23 Celeb Moms Who Celebrated Their Postpartum Bodies With Love, Laughs & Gratitude
Having a baby is hard. It's hard mentally, emotionally, financially, and especially physically. It's hard to even comprehend the extent of the ways your body will morph and adapt and change to accommodate the life growing inside you. This, compounded on the incessant policing women's bodies are subject to, can create a lot of anxiety and undue pressure for women who are simply trying to navigate their way through pregnancy and new motherhood. But here to inspire us all to be a little more self-accepting, here are some celebrity moms who celebrated their postpartum bodies in the most honest and refreshing ways.
In an essay for The Washington Post, Rochaun Meadows-Fernandez perfectly described the societal pressures women and new moms face, as well as her own postpartum body acceptance journey. "Western beauty standards have created an environment in which women are expected to strive toward size goals no matter the cost," Rochaun Meadows-Fernandez wrote in 2018. "The pressure to lose weight as a new young mother hurt me physically and emotionally. It's challenging enough to manage the stress of everyday motherhood, including the physical demands of breast feeding and potential mental-health conditions such as postpartum anxiety and depression. When you add trying to adhere to diets and cram in workouts, it's nearly unbearable."
However, there is perhaps no time in your life at which is more pertinent to be able to tune out the noise of the unhelpful voices around you, and focus on your own health and well-being. And here to lead the way are some beloved and honest celebs mothers who took their postpartum life in stride.