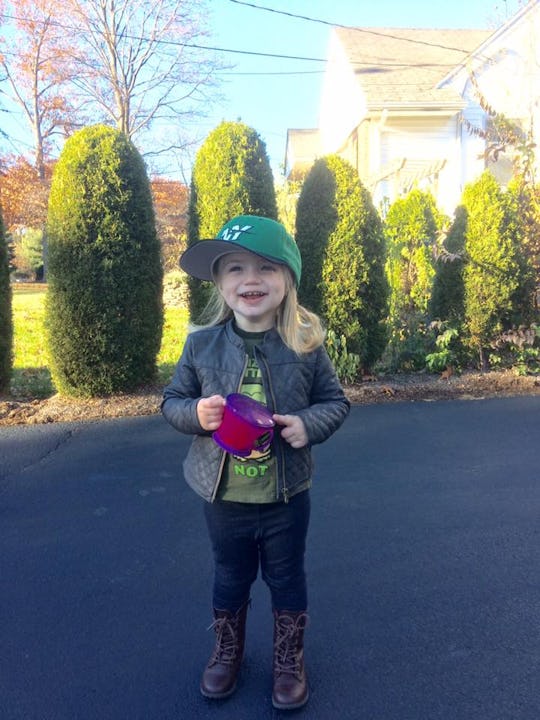 Photo courtesy of Jamie Kenney
Everything I Can't Wait To Tell My Kid About Their Toddler Years
I can honestly say that I've enjoyed every age my kids have thrown at me. Newborns are squishy, pre-schoolers are inquisitive, and kindergarteners are always on the cusp of new discoveries. I don't know that I have a favorite age, but I will say that toddlers have a special place in my heart. My youngest is just about 3 now, so I only have a few weeks left to enjoy her toddlerhood. One day I'll look back on this time with her and share all the things I can't wait to tell my kid about their toddler years.
I'm kinda sorta able to do this with my 5-year-old son, and it's actually been really lovely to look back on his toddler years. He's still at the age of egocentrism, so he thinks anything remotely about him is automatically interesting, and it gives me a chance to reminisce and remember his babyhood. I'll talk in generalities ("You loved this episode of Curious George," or, "Your favorite food was garlic hummus") as well as specifics ("When you were 2, like your sister, a turkey pecked your finger at a petting zoo and you talked about it every day for a year").
Of course, there are some things I can't tell my curious child just yet, because he's either not ready, wouldn't understand, or I'd be ruining an important aspect of his childhood. However, I'm a patient person, and before I know it the day will come where I can sit both my children down and regale them with truths about their toddler years.