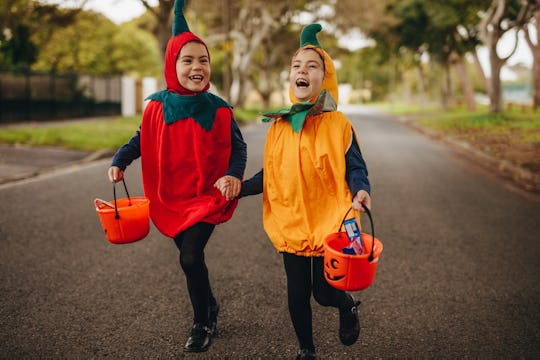 Jacob Lund/Fotolia
40 Kids Share Their Favorite Part About Halloween & Prepare To Melt
When I became a parent I developed a newfound love for holidays, and Halloween is no exception. There's just something about the excitement and smile on your kid's face that makes all the decorating, candy-buying, costume-making, and parties worth it. In fact, for so many of us, having kids is a chance to re-live the childlike wonder we all used to feel when Halloween (or any other holiday) rolled around. But what are our kids' favorite part of Halloween? Of course, there's only one way to find out.
Growing up I definitely enjoyed the treats lovingly handed out to us kids on Halloween. But I think dressing up and hanging out with friends is what really made Halloween special. My festive neighbors could've been handing out books or carrots and I still would've had a blast. And when I asked my 4-year-old son what he loved most about Halloween he replied, "I love to dress up like a race car driver!" (He technically has never dressed up like one yet, but he wants to this year so I guess that's what he's most psyched for.) Apparently, the candy apple doesn't fall far from the tree.
It's easy to assume our kids' favorite part of Halloween is the candy, but the following answers are proof positive that our children are in it for much more than just the sweets.