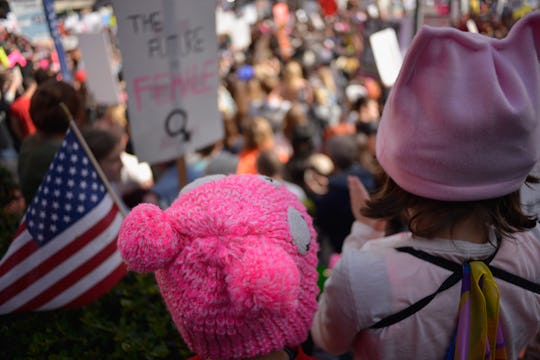 Chelsea Guglielmino/Getty Images Entertainment/Getty Images
7 Ways Having A Daughter Made Me Confront My Own White Feminism
Hearing the phrase "white feminist" used to offend me. In fact, I was convinced it didn't apply to me. I mean, yes, I'm white. And, yes, I'm feminist. But I'm definitely not racist, I recognize my white privilege, and my feminism is pretty damn inclusive. At least, I thought I was. When I had my daughter, and I had to teach her about the world around her, I was made to confront my own white feminism, whether I liked it or not.
The phrase white feminism isn't new and, sadly, it's pretty much the way most people experience and/or witness feminism in action. If you hear the word "feminist," and it brings to mind things like abortion rights, Gloria Steinem, pussy hats, and equal pay, but not how women of color have been forcibly sterilized and killed by police, the rights of transgender people to use, say, the bathroom, or the pay gap between white women and Black and Latina women, then your feminism is objectively white and fails to include historically marginalized communities. And if you get defensive or angry when a person of color tells you what is missing from your feminism? Well, I'd say it's time to grab a mirror and take a long, hard look at what a white feminist looks like.
So, how do you get past the discomfort of recognizing that you are privileged, and quite possibly part of the problem? For me, it took having a daughter. There's something about having to teach someone something new that helps you wrap your head around it, too. I found that teaching my kids about race issues is complicated, but necessary, especially when I realized that I had the privilege of deciding not to if it all proved to be too "difficult" for me. I also realized that the feminist issues that were important to me were not that inclusive, and my advocacy was often white-washed and conducted with (for the most part) other white people marching by my side. So in the end, I knew if that was the only exposure my daughter had to feminism, I would be raising her to be a white feminist, too.
The process of confronting and trying to dismantle my own white feminism has been hard, and I am acutely aware that this process is far from over and must be ongoing of it's going to be successful. But I also know it's worth it, especially when I consider what's at stake. I'm not there yet, but I'm trying my hardest to be intersectional in my feminism, and that means confronting my white feminism in the following ways: