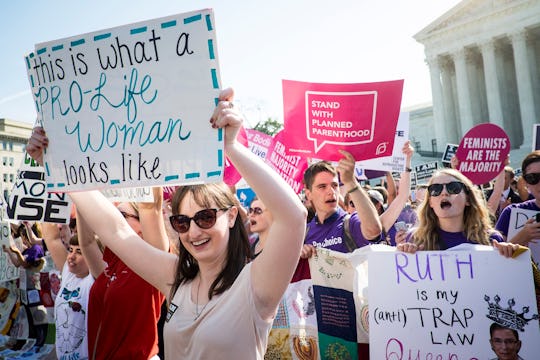 Pete Marovich/Getty Images News/Getty Images
9 Things A Pro-Choice & Pro-Life Mom Have In Common
Few things inspire more action and anger than the subject of abortion. Although Roe v. Wade has made sure abortion is legally protected since 1973, that hasn't stopped folks from expressing their objection to the Supreme Court ruling. Since then, there have been countless bills created and laws passed that have changed the way states approach abortion. This has caused strife among communities, families, friends, and moms who hold differing opinions on the subject. Although it sometimes feels impossible to find common ground, you'd be surprised at just how many things pro-choice and pro-life moms have in common.
Full disclosure: I'm pro-choice. I'm ridiculously, fervently, passionately pro-choice. I've helped out friends facing unwanted pregnancies by informing them about their options. I've helped said friends find good health clinics nearby that provide safe and legal abortions at an affordable cost. I've emotionally supported friends after their abortions. I've had an abortion of my own, and spoken about it publicly and without apology.
I also have pro-life friends. Friends who, despite our difference of opinion, I know to be kind-hearted people who just want to help other people out at the end of the day. They are intelligent and rational people who hope for a time when unintended pregnancies and abortion are a thing of the past. And hey, who wouldn't want to live in a world where we didn't have to worry about such things, right? I'm telling you, we all have more in common than you might initially think.