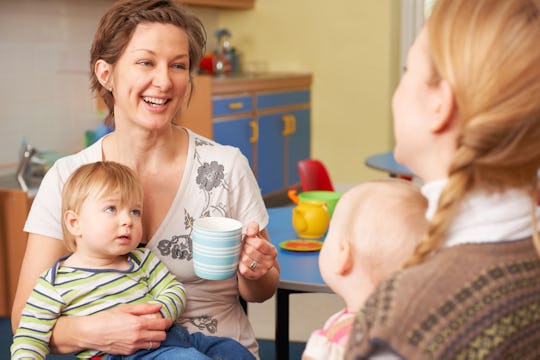 highwaystarz/Fotolia
Here's How 13 Moms Dealt With Awkward AF Parenting Conversations With Their BFFs
Maintaining friendships as a new mom isn't easy. Not only do you not always have time or energy for your BFF, but you might discover that while you agree about politics, running routes, and the best sushi in town, you might not see eye-to-eye about parenting. In my experience, these differences of opinion can lead to some seriously awkward conversations. In talking with other moms, it seems like they have had to deal with awkward parenting conversations with their BFFs, too. So, I mean, at least I'm not alone?
From birth plans and breastfeeding to daycare and discipline, parenting is full of some pretty personal choices. As a result, what's right for you might not be a good fit for your BFF. No matter how strongly you feel about your choices, it can be hurtful, confusing, or just plain awkward when you find yourself on opposite sides of a debate. In my case, my BFFs were super crunchy moms, and I totally thought I would be, too. It turns out, nope, I'm way more scrunchy than crunchy, so we don't always agree or make the same decisions when it comes to parenthood.
In most cases, we've been able to move past the "mommy wars" and on to margaritas. Usually, in my experience, it's easy to make your way through any perceived weirdness and agree to disagree because, well, some things aren't worth a fight (especially not with your BFF). But I think there are some things you just can't accept or "make your way through," too, like when your friend thinks it's OK to spank their kid or shames you for not breastfeeding yours.
Ultimately, friendships are never perfect, especially once you have kids. You have to learn to deal with some awkward conversations, at least once in a while, and learn how to consistently respect each other's individual parenting decisions. You will laugh, and probably cry, and if you're lucky your friendship will be stronger than ever. In the meantime, though, you can at least enjoy the following awkward, cringe-worthy moments, and learn a few ways to fortify your friendships from moms who figured it out: