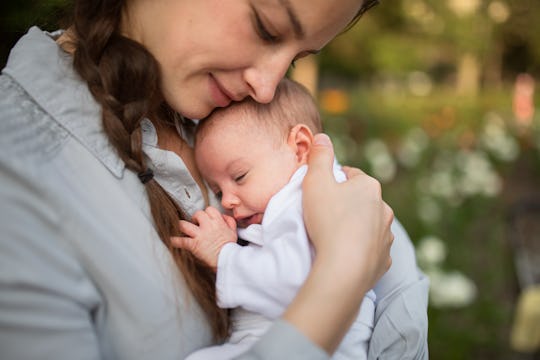 Halfpoint Images/Moment/Getty Images
30 Bird Baby Names, If You're Also Obsessed With Chrissy Teigen's "Wren"
Lark, Dove, Sparrow... they're all so good.
When you're choosing a name for your new baby, it's natural to gravitate toward choices with symbolism. For some parents, they'll want a flower name for their growing little blossom, or names that mean light for a baby boy breathing new life into the family. For others, like Chrissy Teigen and John Legend apparently, bird baby names will have the most appeal. The couple named their new baby boy Wren Alexander, a bird-inspired name that is 100% poised to set a new avian trend in baby naming. And honestly, we're here for it.
Everywhere you look — history, mythology, art, the Bible — birds always signify something more. Doves are a sign of peace and purity, while Ravens symbolize insightfulness and a connection to the spiritual world. Owls are associated with wisdom, and then of course there's the all-powerful phoenix (mythical birds make great name choices, too).
Whether the latest celebrity baby news has put you onto bird baby names or you've always had a soft spot for them, they're a wonderful choice for any little one. These 30 options include a little something for everyone — feminine, masculine, and gender-neutral options, one-syllable first names, vintage vibes, and so much more.
If you weren't already obsessed with bird baby names, how are you feeling about them now? If you just added a bunch of new names to your list to consider (or, like, all of them), no one will blame you.