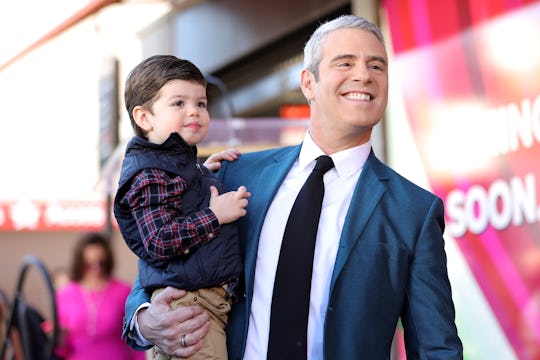 Amy Sussman/Getty Images Entertainment/Getty Images
Andy Cohen Is A Proud Dad To His Two Adorable Kids Benjamin & Lucy
The Cohen kids are the cutest!
Any fan of Bravo host and Housewives-wrangler Andy Cohen knows he's a family man. On his late-night talk show, Watch What Happens Live!, he often has his own parents, Evelyn and Lou, join as guest bartenders, and the doting son often chats about their antics on the show. So it's no surprise that Cohen would take the joyous dive into fatherhood as a surrogacy advocate and single parent to 3-year-old son Benjamin and newborn daughter Lucy Eve.
The famous father seems to enjoy documenting his life as a dad with fans and followers, and has shared every step of his parenthood journey on social media. Cohen loves to celebrate his kids with the company of Bravolebrities as well as his famous Hollywood friends. But it's the intimate peeks he gives inside his life as a dad at home that shows what a loving parent Cohen is. Here's a look at the King of Reality TV's journey to being a papa of two.
He always wanted to be a father.
In a move that's very on brand for Andy Cohen, the self-proclaimed "over-sharer" announced the news of Ben's upcoming birth on his own show. In a video posted to Instagram, Cohen broke the exciting news to his audience and shared these touching words about his desire to be a dad: "Family means everything to me and having one of my own is something that I have wanted in my heart for my entire life. Though it's taken me longer than most to get there, I cannot wait for what I envision will be the most rewarding chapter yet."
Ben's baby shower was pretty extra (in the best way).
You can't expect a man who makes his living boozing it up with weekly Shotskis to have a basic baby shower, and Andy Cohen did not disappoint when he celebrated the impending arrival of his first-born, Benjamin, with a gaggle of Housewives turning up and dancing on tables (we're looking at you, Kyle Richards).
At the time, Cohen posted the booty-shaking party on Instagram and hilariously captioned the video: "Love the new AVENGERS Trailer." Only to be outdone by the rave-themed baby shower of Rhianna and A$AP Rocky, Cohen and his pals seemed to have a blast. Best buddy and musician John Mayer, who was sadly absent from the twerking sessions, was also in attendance.
His son Ben is named after his grandfather.
Cohen was overjoyed to announce the arrival of his son, Benjamin on Feb. 4, 2019 on Instagram: "WOW! This is my son, Benjamin Allen Cohen. He is 9 lbs 2 ounces !! 20 inches," Cohen wrote. "Born at 6:35 pm PT He is named after my grandfather Ben Allen. I'm in love. And speechless. And eternally grateful to an incredible surrogate. And I'm a dad. Wow, " he captioned the post along with a sweet father-son picture.
Although the new dad was in newborn heaven, he was also candid about his relatable struggles to catch some zzz's or deal with his dog eating the baby's toys. Luckily, Cohen had plenty of Housewives to turn to for advice.
And Baby Lucy makes 2!
Cohen also announced the birth of his daughter on Instagram and shared some compelling photographic evidence that Ben is already the best big brother of all time.
But Lucy's baby shower was more low key.
As a single dad to a toddler, no doubt Cohen was too tired to dance on tables like he did for Ben's baby shower. Cohen opted for a more low-key baby shower the second time around, to welcome the birth of his daughter. And while there were no Housewives in sight for this soiree, Cohen's famous friends like Kelly Ripa and Sarah Jessica Parker showed up for this A-list guest list.
Just like dad, the Cohen kids already have some pretty cool pals.
Although it's not clear who Lucy Eve's famous bestie might be (we vote for Priyanka Chopra's daughter), Ben seems pretty chummy with Wyatt Cooper, son of fellow celeb dad of two, Anderson Cooper. Cohen shared a super-cute picture on Instagram, of the two toddlers taking after their dads with the gifts of gab. "New WWHL co-hosts Ben & Wyatt are taking over my show," Cohen captioned the post.
He may donate his remaining embryos to his kids.
Cohen has always been open about his strong feelings on fatherhood, but like so many other people experiencing such a seismic life-shift, being a parent was transformative and inspired Cohen's activism and commitment to make the world a better place for his children. Cohen has admirably emerged as an advocate for surrogacy, referring to the meaningful relationship he has with the woman who carried his child as his "partner and friend." He even revealed on Sirius XM's Jeff Lewis Live that he might give his remaining embryos to his kids.
"I have a few. I can't remember. I think I have three left?" Cohen said. "You know what I'm thinking — this is crazy — but if either of them cannot have kids, maybe in 20 years they'll defrost their sibling and raise them."
With such a fun and devoted father, the sky's the limit for Benjamin and Lucy. We can't wait to see what the Cohens have in store!