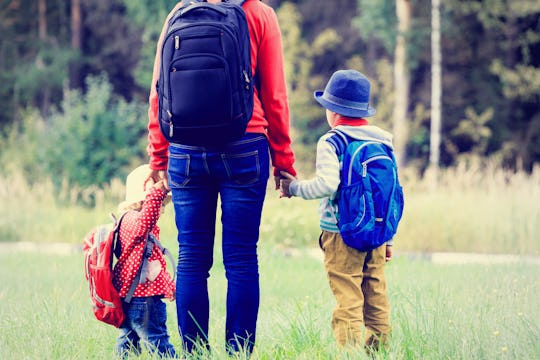 Fotolia
11 Things Every Grown-Ass Mom Does When Applying To Send Her Kid To Kindergarten
My 4-year-old was just starting to loosen her grip on me when I dropped her off at Pre-K, and I was finally feeling less guilty about leaving a teary child every morning, when it was time to think about kindergarten. That step was daunting; there were so many options and so much work that went into investigating which school was the "right" one. Still, I couldn't be lazy about my child's education. There are just some things every grown-ass mom does when applying to send her kid to kindergarten, and I wasn't about to have my kid lose out on the opportunity to attend a great school.
When I was a kid, kindergarten was three hours every day and it felt more like a rehearsal for school than actual school. We learned how to line up, how to call our teacher's by their last names, and I vaguely remember some instruction involving letters. Milk got passed around, and then it was dismissal time. But now? Well, now kindergarten now might as well be first grade. My kids learned to read, add, and write "small-moment stories," which were barely legible because they were, you know, 5-year-old kids. Personally, I think it's a bit much. My kids seemed to handle it, though. They were able to rise to the expectations of their teachers, even if their mother wasn't totally prepared for what kindergarten would bring. It taught me that they were growing up, and capable of more than I had given them credit for.
So as exciting as it was to think about school supply shopping (just me?), preparing to send my children to school with kids much bigger than them (some fifth graders are taller than me) can be scary. I had to suck it up, and do the things every grown-ass mom does when applying to send her kid to kindergarten.