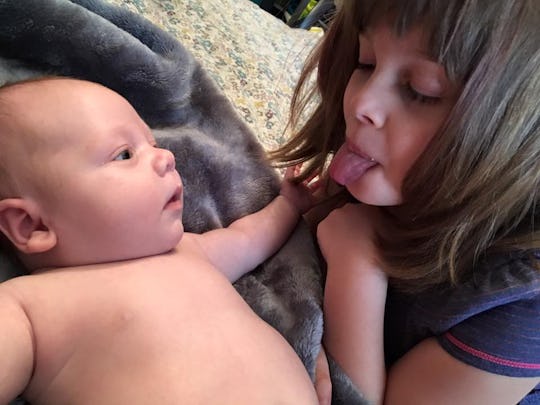 Courtesy of Steph Montgomery
9 Things No One Will Tell You About Having A Third Baby
When I had my first baby, I was determined to be the "perfect mom." I planned to breastfeed exclusively, use cloth diapers, and make my own organic baby-food, among other things. Then I became a mom, and my plans went right out the window. I felt like I had failed. After my second baby was born, I relaxed a little, combo-fed, ditched cloth diapers, and cut myself some serious slack. Then last year I had my youngest, and you guys, there are so many things that no one will tell you about having a third baby. It's so completely different, in just about every way.
Maybe it's because my life is completely different than it was when I had my first two kids. I now have a super supportive partner, and the relative luxury to be able to stay home with my son. Then again, I don't think that's entirely it. I think it's because I'm different, too. I am so much more relaxed, and less stressed out, and more than happy to fully embrace my status as a "hot mess" mom. I have also realized that loving your kids is the only thing that really matters. The rest? The things that seemed so huge when I was a first-time mom? Well, after having my third baby I've realized that I was making mountains out of molehills.
My baby seems different, too. A mom of one I know recently joked that my youngest is a "classic third child." I am pretty sure she was actually trying to imply that I'm neglecting him by not touching him 24-hours a day. But, eh? I mean, sorry I'm not sorry. Because I've realized that spending time away from my children isn't a bad thing. At all. My youngest is learning to do things for himself, and I am way less intense than I was as a first-time, and even a second-time, mom. I am pretty sure my chill is rubbing off on him, too, because he actually is a really happy baby, which is great, because I don't think I could handle parenting a high-needs baby and my other kids, too.
So, if you are thinking about having a third baby, or already have one on the way, there's a few things you should know, including the following: