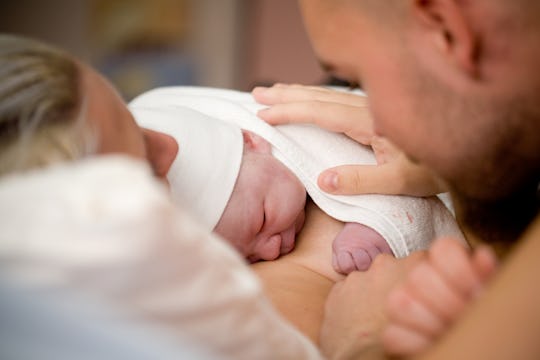 Fotolia
13 Things Every Grown-Ass Man Does To Support His Partner In The Fourth Trimester
I'm lucky in that I have an involved parenting partner. Of course, I hesitate to use the world "lucky," because having a partner who shares the responsibilities of parenthood shouldn't be anything other than the norm. Like, that's the bare minimum, my friends. However, I still consider myself lucky because I know not everyone has a partner to support them through pregnancy, labor, delivery and parenthood. While I refuse to endlessly praise my partner for simply being an adult, when he did the things every grown-ass man does to support his partner in the fourth trimester, I took pause. I stopped. I assessed. I made an effort to say, "Thank you," not because he was doing something that he shouldn't, but because I was just grateful.
My partner and I spent so much time, effort, and brain power preparing for labor and delivery. I knew that pushing a child out of my body was going to be one of the most empowering — yet one of the most difficult — things I would ever do, and so did my partner. What we failed to realize, however, was that the work didn't stop when our son entered the world. In fact, it was just beginning. While I was no longer pregnant or in the throes of labor, I still needed help, support and assistance. My body was recovering from a vaginal birth, my hormones were relentless, I was attempting to adjust to motherhood as quickly as possibly, and I had a newborn I was breastfeeding and who didn't want to be put down. My fourth trimester experience, and many experiences since, have proved to me that a romantic relationship is never a 50/50 split of responsibilities or love or care or effort. One partner will always need just a little more from the other, and when your partner is in their fourth trimester, they need more than your 50 percent.
So, if you're a grown-ass man and your partner has just given birth, here's a few ways you can (and should) be supporting and helping her. Just because your baby is now in the world, doesn't mean your partner doesn't need the same love, care, devotion and attention as she did when she was pregnant. Time to step up, gentlemen.