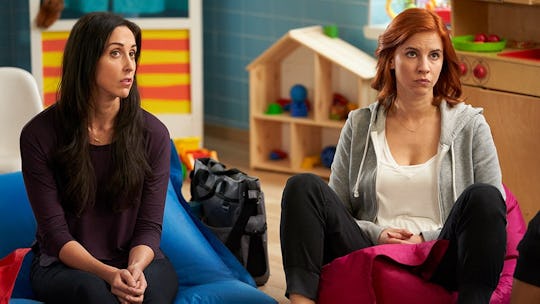 Courtesy of CBC
14 More Amazing Shows Like Workin' Moms To Watch That Also Get Real About Motherhood
Six seasons go by too quickly!
Now that Workin' Moms Season 6 has finally dropped on Netflix, hopefully busy moms will get a chance to chill out and watch. Perhaps with a cheese board and a glass of wine, if possible. Of course, once you get caught up, you are going to need some more shows like Workin' Moms that are just as satisfying and relatable to fulfill all of your mom-com needs.
The Canadian series created by Catherine Reitman after she welcomed her first child has become an international hit. Why? As Reitman herself explained to the CBC, Workin' Moms tapped into a "real hunger" for moms to actually be represented in the media. The actress and director talked about watching television series like Homeland where she felt the parenting storyline "was like the B-story."
After six seasons of watching the moms on Workin' Moms just try to deal with life, it feels like motherhood is exciting enough for anyone to watch.
Sure motherhood might not be "sexy and exciting" but it certainly can be engrossing. And entertaining. And exhausting. As evidenced by this collection of very fine shows that have made motherhood and parenting the A-story and made for some eminently watchable television in the process.
This article was originally published on