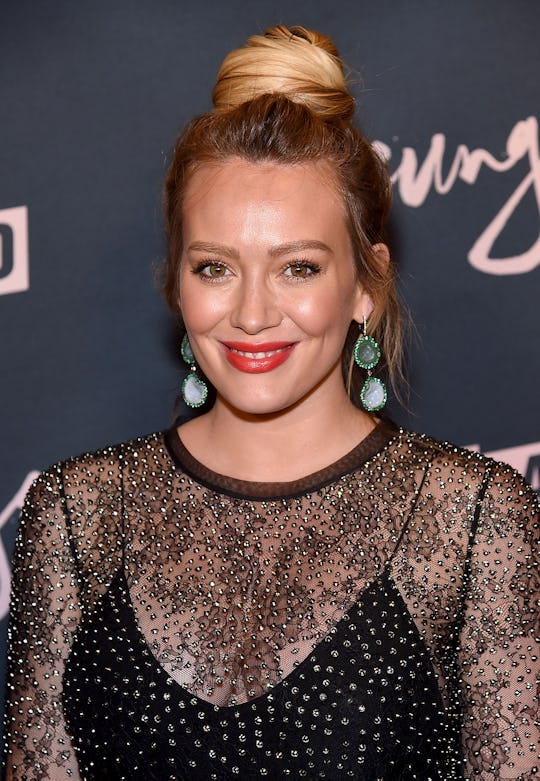 Jamie McCarthy/Getty Images Entertainment/Getty Images
8 Celebs Who Are Expected Give Birth Before The End Of 2018
Cardi B... Kylie Jenner... Kate Hudson... Kate and Pippa Middleton... So many down, but how many more expectant celeb moms to go this year? There's a baby boom going on out there, that's for sure, but which celebs could give birth before the end of 2018? Since most stars don't exactly like to call up the press and throw out their due dates, it's a bit tough to answer. However, with some investigation and calculations, it's clear that quite a few celeb mamas-to-be will welcome a bundle of joy before the end of the year.
As you may recall, 2018 has already been action-packed in the celeb baby department. For instance, Eva Longoria became a mom, and so did Counting On's Jinger Vuolo and actress America Ferrera. Oh, and there's also Chrissy Teigen who welcomed her second and Fixer Upper's Joanna Gaines who welcomed her fifth. There was also Tia Mowry-Hardict's exciting news as well as Jessie James Decker's. And who could forget the three KarJenner sisters: Kylie Jenner, who welcomed daughter Stormi; Khloé Kardashian, who is mom to daughter True; and Kim Kardashian-West, who welcomed her third, daughter Chicago.
The celeb baby boom is far from over. And thanks to social media, it's easier than ever to keep an eye on how still-expecting stars are faring as the trimesters tick by. So if you're taking bets, here's who's likely to welcome a bundle of joy before 2019.
1. Hilary Duff
The adorable Younger star announced her pregnancy back in the summer, sharing her enormous joy on expecting a girl, according to Cosmopolitan, and she looks pretty close to the end nowadays, as she has been noting on Instagram. For instance, she recently tried a Los Angeles cafe's famed "maternity salad," known to induce labor. So it's got to be any day now that her family will welcome their little girl.
2. Kat Von D
Makeup maven Kat Von D actually revealed her due date on social media, writing in early October: "Can't believe we only have 7[ish] more weeks to go before Baby Leafar is here... this pregnancy journey has been nothing short of amazing!"
With some calculations, that would put her due date at approximately Nov. 25, or perhaps a Thanksgiving baby!
3. Kenya Moore
Another celebrity expected to become a mom in 2018: Real Housewives of Atlanta's star Kenya Moore, who, according to People, previously revealed on air:
We will definitely be welcoming a boy or girl in late this year... Oh my God, I said that! I don't want to talk about the details because I'm still very nervous about everything so I want to get past a safe place.
4. Tiffany Thornton
Disney Channel alum Tiffany Thornton is also expected to give birth this year. As People reported, she let followers know that her boys from her first marriage, Kenneth and Bentley, were "expecting a new best friend in November 2018." Thornton, who lost her first husband, Christopher Carney, in a car crash in 2015, according to People, remarried in 2017, to youth pastor Josiah Capaci.
5. 'Jersey Shore's Deena Cortese
Not only is Jersey Shore's Deena Cortese is expecting a baby boy, she also shared on Instagram that her due date is in December. "Chris and I decided to wait until we were ready to spill the beans! 💙Now that we are safely into our second trimester.. us and our little monkey are ready to tell the world Our little family is growing!" she captioned a photo of their pregnancy announcement over the summer.
6. Rachel Platten
Singer Rachel Platten is thrilled to welcome a baby girl and she also recently shared on social media that she's already in her third trimester. So it's a sure bet that she'll welcome her bundle of joy before 2019.
7. Jana Kramer
Jana Kramer, who is adding a second girl to her family, posted on Instagram in late September: "9 more weeks till I meet this sweet 🌈 baby boy." Which puts her delivery around Nov. 28, so I think it's safe to assume that she'll welcome a pre-New Year's baby. The actress, who already has a daughter, Jolie, 2, with husband Mike Caussin, according to Us Weekly, has posted on social media about how excited she is to have a boy.
8. Jessica Simpson
Jessica Simpson's due date is not clear and she hasn't revealed when's expecting her second child. However, Made For Mums has pinned her due date in December 2018. Meanwhile, according to Marie Claire, the fashion-company owner, mom to Ace and Maxwell, could give birth in 2019. Either way, Simpson seems so thrilled to welcome her baby girl, and fans certainly can't wait to meet her.
With just a couple months left in 2018, you'll be pleased to know that next year also has an all-star lineup of mamas expecting to give birth. According to InStyle, that list includes country star Carrie Underwood, model Kate Upton, and Diane Kruger. And that's not even mentioning that new royal baby: Meghan Markle, the Duchess of Sussex, will welcome her first child with Prince Harry in spring 2019.
The celeb babies just keep on coming, and it's always a treat to hear the happy news and see the adorable photos. And the good news? You can expect a few more to come in 2018.