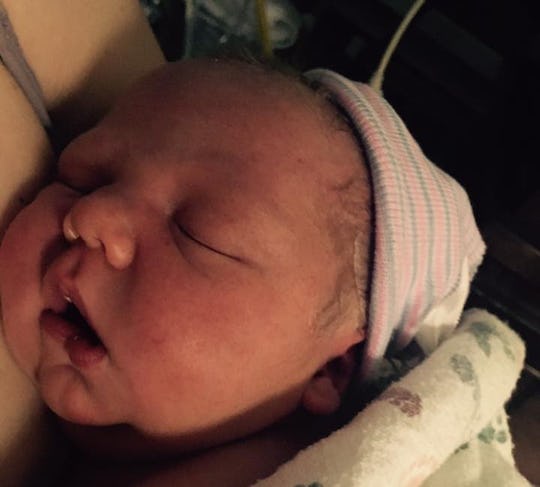 Courtesy of Steph Montgomery
20 Breastfeeding & Formula-Feeding Moms Talk Night Feedings Because, Honestly, We're Not That Different
There's so much divisiveness in our parenting culture in how mothers feed their children. To some, breastfeeding is more convenient, but to others, formula-feeding is easier. So, who is right? Honestly, I have both breastfed and formula-fed babies, and can tell you both have positives and negatives. One thing's for sure, though, whether you breastfeed, formula-feed, combo-feed, or pump, babies need to eat around the clock, and that means you will become intimately acquainted with night feedings. I asked breastfeeding and formula-feeding moms to describe night feedings as they experienced them, and I think I may have discovered some common ground in the so-called mommy wars: a love-hate relationship with night feedings. Seriously, the struggle is real, regardless.
On one hand, night feedings mean quiet moments of baby snuggles and stillness that really only happen at 2:00 a.m. when no one else is awake. Plus, your baby is only little once (or so everyone tells you all the damn time) and there's something to be said for holding that little one in your arms as often as possible. So when my second baby was born, I cherished those moments. It was actually my favorite part of maternity leave. I loved being with him and catching up on reading or Netflix and just being, well, us.
On the the other hand, sleep is life. And OMG, I miss sleep. It seems like it doesn't matter what my partner and I do, either — whether we room share with our youngest or put him to bed in his nursery at night — I never get enough sleep. I'm always waking up at his every peep or having to walk across the house to feed him. So, as you can imagine, I am so ready for him to stop waking up to eat at night. I know logically that he probably doesn't need to eat, but I don't know how to quit when it's the only thing that puts him back to sleep. On the plus side, because we formula-feed I can share these late-night wake-up calls with my husband. At least both of us are tired, right?
So, if you breastfeed, formula-feed, or combo-feed your baby, and are ready to nod — or shudder — in commiseration, read on for some real stories of night feeding from moms who've been there and lived to tell the tale. Guys, we truly aren't that different, regardless of how we choose to feed our little ones.